Keep Oklahoma Beautiful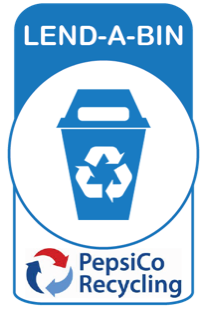 Let Keep Oklahoma Beautiful help you recycle at your office or events! In partnership with PepsiCo Recycling, KOB currently has recycle bins available for you to use to collect plastic bottles and aluminum cans. Neighborhood cleanups, business meetings, conferences, special events, and concerts are just a few ideas of what your organization could use these bins for. Help us spread the word that recycling is important across Oklahoma.
Keep in mind that KOB's office is based in Oklahoma City. Due to our resources we are unable to ship the recycle bins to your organization. However, we will work with you to get you the bins. If you are located in the Tulsa area, you can coordinate with M.e.t. in Tulsa to borrow some of their recycling bins. 
Click here for more information about where to take your recycling!
Contact KOB to get your Lend-A-Bin today:
(405) 286-9141
OKC Beautiful
Want to provide recycling at your next event?
 Let OKC Beautiful help you recycle! We have 40 recycle bins (with lids) available for you to  check out & use at your next event. Whether you use one bin or all 40, they are FREE and  available to you and your organization. Neighborhood picnics, holiday celebrations, community  runs and walks, school activities, business meetings and conferences are just a few examples  of when your organization could use the bins to promote and support recycling efforts. Help us  educate the Oklahoma City community about the importance of recycling at your next event.
Email us for additional information or fill out the form below to checkout free recycle bins.
The M.e.t.
See the M.e.t.'s Recycle Bin Loan Program information.
Bin Loan & Event Recycling
As a nonprofit, governmental agency, The M.e.t. promotes recycling throughout the community. The M.e.t. loans recycling bins to schools, non-profit organizations and local events.  We offer a variety of bin types and can offer helpful recycling suggestions for your group or event. We offer a long-term loan program to help organizations start recycling and a short-term loan program to assist with events.
The M.e.t., in conjunction with other organizations like Tulsa Master Recyclers, has assisted with recycling at many local events, including FreeTulsa, DFest, Tulsa State Fair, Route 66 Marathon, Mayfest, Trailblazer, Greek Holiday Festival, Oklahoma Steak Cook-off, school carnivals, the Art of Barbecue, Tulsa Pride, Susan G. Komen Race for the Cure, and Tulsa Tough, among others.
If you are interested in applying for a bin loan or event recycling, call 918-584-0584 or email The M.e.t. at least two weeks prior to the event.