How You Can Reduce Your Food's Environmental Impact
June 1, 2023 Noon to 1:00 p.m. CST
Stephen Sturdivant will review important ways we can combat climate change, water pollution, and species extinction through our food choices. Mr. Sturdivant is an environmental engineer and Regional Coordinator for the US EPA Region 6's Sustainable Management of Food Program.
Join to learn
How food waste can adversley impact the environment
Food Waste composition
Food: Too Good to Waste Implementation Guide and Toolkit
Food waste sort and audit
Share table
Recording Coming Soon
Proper Management of Medical Sharps and Pharmaceuticals in Oklahoma Communities
May 18, 2023 Noon - 1:00 p.m. CST
Hanz Atia, Product Stewardship Institute will be presenting the results of the ongoing progress of the take back pilot program in Oklahoma. 
The Oklahoma Meds and Sharps Disposal Committee (OMSDC) is a coalition focused on statewide solutions for the safe disposal of medical sharps and pharmaceuticals in Oklahoma.
Join to learn
Why it's important and how to properly dispose of medical sharps and pharmaceuticals
The work that OMSDC has been up to
The resources available to you and your community
How to get involved
Recorded Presentation Coming Soon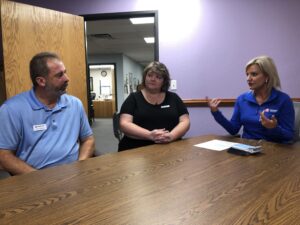 A Recycling Slam Dunk, without the Junk - Part 2
March 1 , 2023 Noon to 1:00 p.m. CST
Join OKRA as we hear Crystal Bennett , Municipal Manager Republic Services visit with the Midwest City Public Works Department about how they put together their very successful "Super Recycler Program." Learn how you can conduct a program in your community.
Recording Coming Soon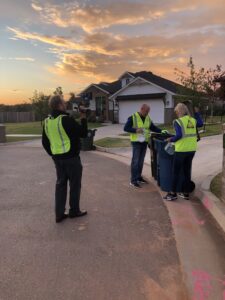 A Recycling Slam Dunk, without the Junk - Part 1
February 15, 2023 Noon to 1:00 p.m. CST
Join us as we walk the streets with Republic Services as they conducted a recycling bin audit with the City of Midwest City for their Super Recycler Program.  See how bins are tagged if there is a problem or rewarded as a "Super Recycler" if it is perfect.
This competition happened during the first two weeks of October 2022.
Processing Recyclables: Gathering Valuable Information through Waste Audits
April 13, 2022, 12:00 p.m. to 1:00 p.m. CDT
About this event
Recycling can be confusing for residential customers. There are rules about what can go in your bin and what can't, and that information changes from time to time. So, the wrong things end up in recycle bins, sometimes accidently, and sometimes deliberately.
Understanding why some items don't belong in your recycle bin becomes clear when you get to look at the equipment inside a materials recovery facility (MRF, pronounced "murf") and how that equipment sorts recyclables. If you live in an area that has single-stream (everything goes in the same bin) recycling then your recyclables go to a MRF.
Come and learn how Republic Services and Batliner Recycling do frequent audits to help determine the type of contamination that is making its way to recycle bins so they can do targeted education and outreach to address that contamination.
You will get to see first hand some of those contamination items and the insides of the Batliner facility and how the sorting process happens.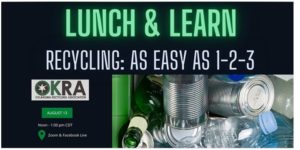 Opportunities for Glass Recycling in Oklahoma: Engage with Experts
March 8, 2022 12:00 p.m. to 1:30 p.m. CDT
Blair Pollock from Orange County, North Carolina will share about the county's highly successful glass recycling program.  Chris Knight with the City of Stillwater will talk about their experiences with glass recycling.  Lydia Gibson from Ripple Glass will will be speaking about hub and spoke opportunities in Oklahoma, Robert Hippert from O-I will be speaking on what the container glass industry expects from a quality standpoint for furnace ready cullet.  Patrick Riley with the Oklahoma Department of Environmental Quality will talk about grant opportunities for equipment available through the DEQ. This expert panel will be available for questions and discussion on glass recycling.
Thank you to co-sponsors:
Glass Recycling Coalition
Glass Recycling Foundation
2021 
OKRA Lunch & Learn - Recycling: As Easy As 1-2-3
August 13, 2021  12:00 p.m. to 1:00 p.m. CDT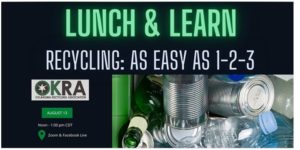 About this event:
When it comes to recycling at home, everyone has a part to play.  Beginning with the way you sort materials, and ending with an efficient recycling pickup, we can make sure recyclables are handled properly for a cleaner environment.
Come and learn from Crystal Bennett, of Republic Services, who will introduce us to these simple guidelines to become a better recycler.  Working together, we can make sure recyclable materials don't end up in our lakes and landfills.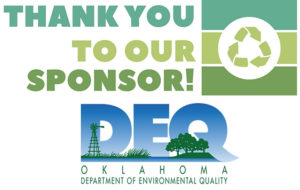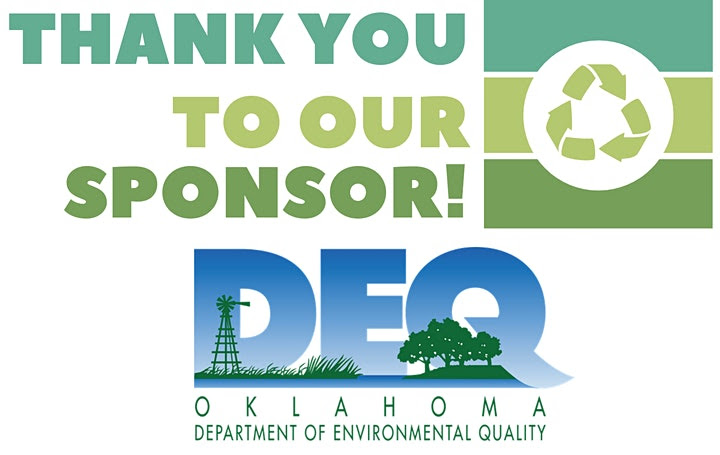 April 23, 2021
OKRA's 2nd Lunch & Learn to continue the conversation about recycling glass
Presented by Josh Boyer,  Regional Program Manager for Ripple Glass
Mr. Boyer spoke on the benefits of recycling glass and how to increase glass recycling in Oklahoma communities. He also discussed what happens to glass collected in Oklahoma.
February 11, 2021
Pennsylvania Resources Council Traveling Glass Recycling Bin Program.
Presented by Ashley DiGregoroi, Recycling Markets Program Manger for the Pennsylvania Resources Council (PRC)